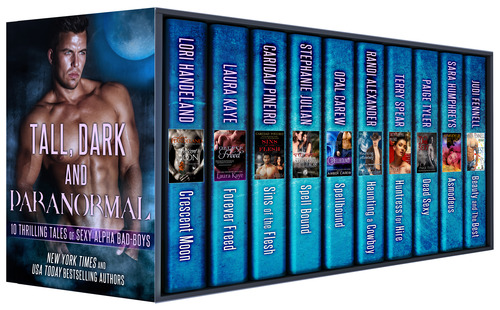 For only $0.99 (limited time pricing) you can purchase 10 scorching tales featuring the hottest bad-boy alpha heroes you can imagine!
The Tall, Dark and Paranormal bundle features Crescent Moon by Lori Handeland, Forever Freed by Laura Kaye, Sins of the Flesh by Caridad Pineiro, Spell Bound by Stephanie Julian, Spellbound by Opal Carew, Haunting a Cowboy by Randi Alexander, Huntress for Hire by Terry Spear, Dead Sexy by Paige Tyler, Asmodeus by Sara Humphreys and Beauty and the Best by Judi Fennell.
To celebrate this fantastic offer, all of the participating authors invite YOU to join us for a release day party. Join us on September 16th from 4-9 pm EST for prizes, chatting and pictures of those sexy alpha bad boys. Release Day Party Link.
Make sure to pre-order your copy from any of these online retailers: